I sure do love a linky party!
Since almost all of the blogs I
stalk
follow have been linking up, I decided I must as well (even if I have already posted today!)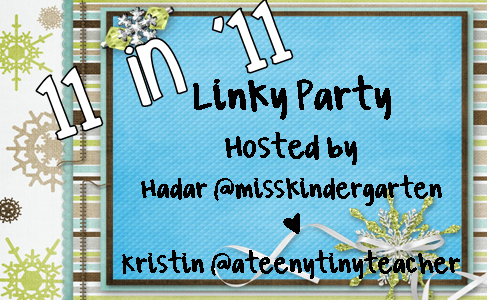 11. Favorite movie you watched
I LOVE movies. I go all the time. I Redbox constantly. It is one of my many obsessions. So this was hard for me. I mean I've seen three great movies in the past two weeks, Mission Impossible: Ghost Protocol, Sherlock Holmes and The Girl with the Dragon Tattoo. Not to mention throughout the year I loved The Help, Crazy Stupid Love and Horrible Bosses. My all time favorite though was...
Raunchy, Hilarious and Quotable. Of course I love it!
10. Favorite TV series
This is another hard one, because there has been some great TV this year. I am also a huge TV junkie and my DVR is usually a ridicuous mess. Glee, Vampire Diaries, Dexter, Jersey Shore (I know, I'm an educated adult, seriously?), True Blood, The Walking Dead, Once Upon a Time, Pan Am and my list could go on forever. But, my favorite show was a new one this season....
My sister told me I had to watch this show about halfway through the season. I watched 7 episodes in two days. I was addicted. It's about a POW coming home and a CIA Agent is convinced he is a terrorist. It is awesome and to add to the awesomeness...It's filmed around my hometown.
9. Favorite restaurant
I eat out way too much, especially since I can't afford it. Right now, my favorite place to eat is Thai House. They have the best sushi I have had around here (although it has nothing on sushi in Thailand or Hawaii!)

8. Favorite new thing you tried
I know this is probably the same for a lot of people, but I am so glad I started blogging. I used to have a personal blog, but I am telling you...it was boring. Teaching kind of takes up my entire life and my friends who read my other blog didn't care about that. ha. So, as part of this technology program, I had to start a professional blog. I LOVE it. I have really only gotten into it over the past two months, but it has been well worth it. I love all my new blogging friends and it has made me such a better teacher!

7. Favorite gift you received
For my birthday this summer, my parents paid for my brother and I to go to Hawaii to visit my sister and her husband! Best present ever! Here are some of my favorite pictures from the trip.
We actually got stuck in Phoenix for two days without any luggage. It was definitely an interesting start to the trip.
My brother and I after we arrived, two days after we left home. That is why we look so horrendous!
We somehow randomly found the Real Black Pearl from the Pirates movies. We were kind of trespassing, but it made for a cool picture!
My friend Kayla who traveled with us, My sister, and Me at my birthday Dinner!
All of us at the Luau!
6. Favorite thing you pinned
.This is so hard to decide, because as you guys know....I am OBSESSED. I honestly can't choose one, or two, or three. Check out my
Pinboards
though, lots of awesome ideas!
5. Favorite blog post
Like I said, I haven't been posting for too long, so I'd have to say my favorite was my first linky party. I loved
Reagan'
s Top 10 Reasons You Know Christmas Is Near so I decided to do one myself. I thought it was my first
post
that really let my personality come out.
4. Favorite accomplishment
I am so proud to be Teacher of the Year at my school. It's so nice to be recognized by my peers! It really does make me feel special!
3. Favorite picture
I know this seems like a bizarre choice (especially since I look awful and well, like I had a lot of fun that day). Well, the other three ladies are my college roommates. We have several other pictures in this pose and we always seem to feel like we need to recreate it. This was at one of their weddings this spring. She was the first one of us to get married.
The original picture back in 2007.
At my Graduation in 2008.
2. Favorite memory
Since it's fresh on my mind, I would have to go with what happened tonight! My dad bought our whole family tickets to see the Off Broadway show of Rock of Ages. It was awesome! We had so much fun. I love some great 80's rock!
1. Goal for 2012
Personal: I need to get back on the losing weight train. .
School: I want to be more creative, more organized and more focused on being a better teacher.
Blogging: I want to continue making new bloggy friends and posting on a regular basis.
So there it is! You should definitely go and
link up
!