I.
Am.
Sick.
You don't understand. I never get sick.
I mean, ever.
Which translates to, when I am sick. I'ts not pretty. I am whiny.
So, although I had all these grand things I wanted to blog about today, I am way too tired to even think about it. Maybe tomorrow I'll post about what I had planned. Since I won't be at school. Gasp! This third grade teacher is never out.
Since I can't get my creative juices flowing, I wanted to thank two ladies that tagged me!
You can read that post here.
Thanks to Kaleigh at
Kaleigh's Klassroom
for tagging me! I am her newest follower and it looks like she just started in the blogging word, so check her out! Kelli from
Pray Teach Love
tagged me too! I'm her newest follower too!
I wish I could stop using exclamation marks, but I love them way too much!
Oh, and Ms. Smith (too bad I don't know your first name) at
Adventures of Ms. Smith
gave me the Favorite Follower Award! Thanks girl and thanks for your sweet comments!
I love all my followers, and they are all soooooooooooo wonderful! It was hard for me to decide, but I have to give it to my best partner in this blogging journey, Elisabeth.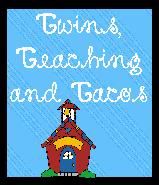 Since I might be breaking the rules since Elisabeth is my friend in real life. I also have to give it to another Elizabeth!