I just wanted to let you guys know about this new FABULOUS blog for 3-6 teachers!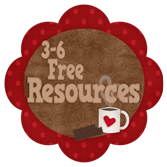 My friend Misty over at
Think, Wonder & Teach
just started it. It's just what the name implies, free resources for us 3-6 teachers. There are so many great resources out there from amazing bloggers and this is a place where Intermediate teachers can find these free resources compiled! Plus it's coffee themed. Yum! There is also a place to link your blog by grade level.
I am a contributor and there are some other fine ladies who are too! So definitely go check it out now! I mean now. Well, after you enter my giveaway of course! :)