Papers graded. Check.
Lesson plans. Check.
Apartment cleaned. Check.
What a productive Sunday! Plus, the fabulous Mark pitched in and helped clean. I love a man that cleans for me.
I found some bad news though. . I started cleaning out my wreck of a closet, I have tubs all along the bottom of my closet storing all my out of season clothes. So when I started pulling out the tubs, there was mold on the wall. AHHHH! I flipped out. Our apartment was flooded a couple months back so I guess that is where it's from. Our apartment is on the end, so it might be something from outside. Who knows. So I put in a call to the apartment people and hopefully it will be cleaned up. Let's cross our fingers it's not toxic mold. I am still alive, I hope it stays that way.
I just wanted to remind you guys that my giveaway ends tomorrow at 5 PM! I have already gained almost 40 more followers since the start of the giveaway. You guys are so stinking awesome. I have had so many sweet comments and emails over the past couple weeks. It makes me smile every time.
Anyway, be sure to enter for your chance to win some amazing items from my blog friends!
Also,
Elizabeth
added some brightness to my day. She let me know that my TN Shop is listed on the front page as a Favorite Shop! How cool is that??
So in honor of that, I am having a flash sale until Midnight! Everything is 30% off at my TN Shop!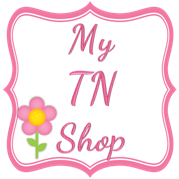 I gotta go the first new Mad Men in agggges is coming on! YAYYYY!
Have a great week!