Tomorrow is Friday! Wooooohoo!
This has been a long week.
There's a lot of negativity going on around me, but I'm really trying to stay out of it and keep positive. I have a wonderful class. I love what I'm teaching. I have lots of support from my bloggy friends. So I have lots of reasons to keep it positive!
To all my NC friends out there, what about all of these Content Standards we have to teach???
You see we have 8 science units & 8 social studies units. That's right! EIGHT! Isn't the point of Common Core to teach less, but teach better? Yeah, well I digress....
So, with so much content, we basically have two weeks to teach each concept. We are supposed to be integrating each unit into shared reading & guided reading. It's a little hard with a lack of resources, so I felt like I was floundering. Our first SS Unit was about Map Skills & Location.
Kinda boring, right?
So, foldables to the rescue!!
Last year my kiddos LOVED making lapbooks. This year, I'm doing the same concept, but we are keeping a Content Notebook so we are keeping all of our foldables in our notebooks. I liked the idea of keeping all of our units in one notebook, so we can refer back to it throughout the year. Plus, since our standards build on each other from year to year, hopefully they can use it next year.
Here are some pictures of our foldables in our notebook.
Here is what a completed lapbook would look like!
One of my students told me, "I never liked Social Studies until third grade!" That made my heart happy!
What else did we do during this mini unit?
We watched some cute BrainPop Jr. Videos.
We read some fun books.
We used our Vis a Vis Markers to find different places on laminated maps.
We created treasure maps (I wish I had some pictures, but I completely forgot! Let's pretend they looked this awesome)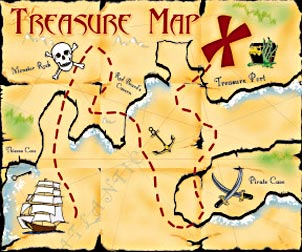 During this little activity I found out that ninjas, alligators, and zombies can all be in a map key.
If you'd like my Map Skills Lapbook, leave a comment with your email below telling me what content concept you like teaching most! I'll randomly pick three people to receive the lapbook!