Ahh! I've been Boo'ed! I don't do well with being scared. I'm a big baby. I went to go see Sinister this weekend with Mark and I'm still terrified. Somehow I agreed to go see Paranormal Activity 4 tomorrow night. I'm preparing myself.
Oh, back to the subject!
Thanks to Elisabeth at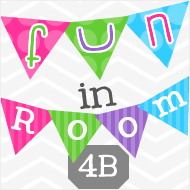 Cassandra at
and Tracey at
I'm supposed to Boo some other bloggers, but I'm late to the game. So, instead I want to BOO some faithful readers out there! The first FIVE people to comment and leave their email will get to choose any item from my store that they want! :)
I really don't have the time for many Halloween activities at school, but I wanted to share some of my favorite finds this year! I'm hoping that I can at least get to some of them.
These were all made by some of my FAVORITE ladies!
Oh and I have a new Halloween product up too!
You can check them out at
TPT
or
TN
! They are only $1.75!
Well tomorrow is a half day and Friday is a workday! It's our first workday since school started. Yay for a break! Have a great rest of the week!
Oh and don't forget...
The first FIVE people to comment and leave their email will get to choose any item from my store that they want! :)