I hope everyone has had a great weekend! I have so much to post about it, but I can't seem to get it out. So, instead I'm going to have some fun and link up with Jennifer at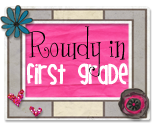 Things can get so crazy for us teachers, so it's nice to focus on the good things!
Something Good At School: I love my class. They are adorable! They make teaching a real joy and I look forward to teaching them (almost) every day! I'm also loving the fact that I only have 19 little cuties. Having 5 less children means a lot less papers to grade, smaller groups and more space in the room!
Something Good At Home:
I started WeightWatchers about 6 weeks ago and I've lost 16 pounds! I've always been a little bit on the heavy side and struggled with my weight, but WeightWatchers really works for me, as long as I stick with it! I'm trying to be more active too, instead of just sitting at the computer after school. Oh, the life of a teacher blogger! The Fall is a great time to stay active. Today, I had lots of fun walking through a corn maze. We did it a second time after we figured out the trick so we could power walk it! haha!
Since I'm posting about good things....I'm super excited and I had to share! I ordered a new Classroom Rug today! I love my old one but it's just gotten kind of old and raggedy. Here is a picture of my kiddos playing a game on the old beloved rug. I've had it since I started teaching. I'll miss it!
But out with the old and in with the new! I've been searching for one the past few days. I really wanted a polka dotted one, but I didn't love the ones I found. So then I decided I wanted one that would create teachable moments. So I decided I wanted a map rug! It came down to a decision of a US Map and a World Map with Country Flags.
I decided to go with the USA Map because my kiddos do not know abbreviations of states. Plus, I liked the look of this one, not too cartoony or bright, but still fun and cute! It should be here by the end of the week It's from Carpets for Kids, so I'm crossing my fingers that it is good quality! I'll update you when I get it. :)
One last thing! I have updated my Lapbook & Foldable Templates! Now there are 36 templates, plus an editable powerpoint!
So, if you've already bought them, be sure to redownload them! You can still grab them for only $3 at
TPT
and
TN
!
Leave a comment and tell me SOMETHING GOOD in your life! Tomorrow night I'll randonly choose two people to get the templates for FREE! :) Be sure to leave your email!