Thanksgiving has really snuck up on me this year! I wanted to share a last minute Thanksgiving craft with you guys. If you're like me, I have school on Monday and Tuesday and I am always looking for something fun to do the two days before Thanksgiving Break. If you're already out, you might need something to occuopy your own kids! :)
Every year I like to make cute tie-dye turkeys with my kiddos. I've made these with Kindergarten kids, fifth graders and my third graders! They are super easy and the kids love them.
Aren't they adorable? Here's the lowdown on how to make them...
I told you it was easy! I didn't make a template for the parts, because I always let my kids just create their own to make them all different. In the past with less artistic classes, I've let my kids trace their foot for the turkey body. :)
Don't forget about my 700 Follower Mega-Giveaway! You could win a $25 Amazon Gift Card and tons of cool teaching resources. The giveaway ends tonight at Midnight EST. Click on the picture to grab yours!
Also, I have a new Donor's Choose Project that was just posted. It's all about keeping kids fit and having fun while learning! If you feel led to donate, you can enter the code INSPIRE and Donor's Choose will match it! The code is good until November 23rd! :) Any donation is greatly, greatly appreciated! Click on the picture to check it out.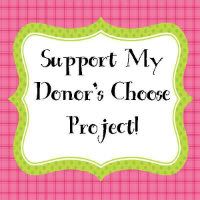 I'm awfully jealous of you that don't have to go to school tomorrow, but the Sunday Night Blues won't be too bad, knowing I only have two days before a long break! Have a great Sunday! :)