So I've been home sick today so I have nothing classroom related to share, but when I saw this fun linky from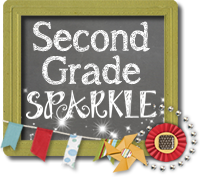 I knew I had to link up! It's
"When I Was In..." Linky Party
. We are all linking up with pictures from the grade we teach. Aka, a walk down memory lane.
So I went searching through my mom's photos and found my school photos from elementary school. It took forever to find mine from third grade and I found some along the way I wanted to share too! (Oh and my scanner was being so mean, so I just took pictures of them with my phone!)
The summer before Kindergarten in my dance costume.
Kindergarten 1991
First Grade. 1992 Do you want to know how I knew I was in First Grade, Check the Button.)
Ross Perot Baby!! Apparently picture day was election day too.
Second Grade. 1993
Third Grade. 1994
Gotta love that Western look. I live in NC by the way.
That's as far as I'm going because it's scary in fourth grade.
Was I not the tallest child ever? I was looking at pictures and I could not believe how much older I looked as a child.
Just so you can remember how I look now...
Here I am with my very tall boyfriend. I'm 5'8" and he is 6'5". He was also very tall as a child. Like 5' in 3rd grade tall. We may have the tallest children known to man. Maybe they'll make us rich as basketball players.
I can't wait to see everyone else's pictures from when they are young. I think it's so much fun!