Well I've been back at school since last Wednesday and I am already ready for another break! My kiddos have been little sweeties though and we have gotten back in the swings of things. Even so, I am not ready to post about school things. We are behind in every single subject so we are flying through our material. No time for pictures, I'm running around like a crazy person.
So, to relax, I am going to link up with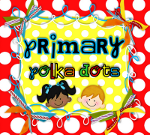 to post about one of my favorite things, CLIPART!
Clipart is so important for any teacher wanting to break into TPT. When I first started I don't think I understood the importance of clipart. I mean most of us elementary school teachers are women who love cutesy. I know I do. If it has polka dots, chevron or bright colors then I am sold!
So here we go...
So go check out Lindsay's Linky Party for some new clipart.
Now, I really want to buy some more clipart! But, I'm trying to save my money for New Apartment Shopping! Yep, I'm moving February 1st! I am feeling the need for some new decor shopping, so clipart can wait.
I'll be spending tomorrow writing plans for Testing Review for May with some other third grade teachers in our county. I cannot even start to think about Testing, so I do not know how this is going to go! Have a great week friends!